SEO for Contractors: Key Takeaways
Our SEO for HVAC contractors costs $1250-$1800/month
It will take 4-6 months to see the initial boost in traffic.
If you are in a suburb, tier 2 or tier 3 city organic SEO and local SEO is probably a good option for your HVAC business.
Track keywords, organic traffic, conversions, Google Business Page
Client Case Study: Our HVAC SEO Strategy
Build a great, website optimized for search engines and users
Build a great, optimized Google My Business page for local SEO and generate customer reviews.
Submit your HVAC business to online directories
Submit and index your website with Google Search Console and a sitemap
Improve your websites page speed (but don't agonize over it!)
Optimize and add the most important website content (homepage, hvac services pages, location pages)
Write content to support your search engine rankings (but do it well)
Build links. Some lower quality links are fine (eg: local business directories) otherwise focus on quality.
Review your SEO marketing strategy and build on steps 2, 3, 7 and 8.
If you're reading this, you're likely here for one of two reasons.
You're dissatisfied with your current SEO provider. This could be for a lot of reasons but ultimately it's because your expectations are not matching the reality.
You own an HVAC company that is not currently running SEO and you're wondering if SEO it might be a good marketing channel for your business.
Let's start with the questions every single client asks.
How much does SEO cost for an HVAC company?
The cost of an SEO campaign for an HVAC company run Salt Water Digital us is $1250 – $1800/month for any tier 2 or tier 3 city.
If you are trying to rank in Dallas or Chicago (or any city with a major sports team) it will require a budget north of $3000/month. Big cities = large HVAC companies = large marketing budgets.
In Calgary (a population of 1.3m people) the largest residential HVAC contractor generates >$20m/year. Even if their marketing budget is 5% of revenue (typically 8-12% is normal) they have $83,000 per month to spend. Allocating 10% of that to their SEO campaign is a no brainer.
However if your physical address is in a suburb of any of these tier 1 cities, a budget of $1250-$1800 can work.
How long will it take for my HVAC company to generate clicks with SEO
Under normal circumstances you should start to see traffic within 4-6 months. If you have a solid existing website it could be as little as 1-2 months.
In our case study (below) it's been six months and we have started to hit page 1 for a number of his target keywords. We have started to see a little bit of traffic but it is currently the low season (there isn't a lot of need for a residential HVAC contractor when its 15C/59F outside.
This HVAC website was built by us right before we started our campaign so it was brand new. It always takes longer to rank with a new website
What's an easy way for me to determine if my HVAC company is a good candidate for SEO?
The most important factor is the market you are in.
Pay-per-click (PPC) in the HVAC industry is a race to the bottom (top). Clicks are often north of $50. So if we can generate >100 clicks per month of high intent HVAC keywords like, "HVAC Contractor [city]" or "AC Installation [city]"
Here is an example of Nashville's PPC estimate. Dallas' PPC cost this. Suburbs around these cities are subject to similar pressure because the largest companies within the major city will bid up the keywords in a 30m radius.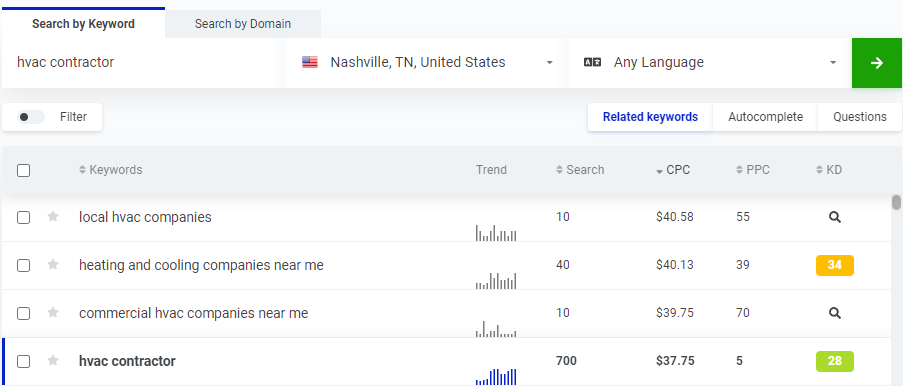 So back to the question: is SEO a good option for an HVAC company?
If you are in a suburb of a major city or a tier 2 or tier 3 city, generally it is. I'll explain why once we get into the details about why this is case.
What metrics do you track for for HVAC companies SEO campaigns?
In month one we setup keyword tracking based on keyword research, GA4 (the newest Google Analytics) and Google Search Console. Initially our north star are the keywords we are tracking. There will be ebbs and flows to the rankings but we want to see keywords rising up and to the right. We also track the Google Business Page performance.
As we move further into the campaign and we start generating organic traffic we setup advanced google analytics tracking to track conversions. These are typically click to phone calls, form fills and click to email.
If a customer is on mobile there is a good chance they will simply click the phone number and that will count as a conversion. However, if they're on a desktop they likely will simply punch the number into their phone – these we cannot track. Same goes for an email – if a customer is on their desktop they will likely copy & paste the emai which we can't rrack.
In addition to these metrics, you should be tracking leads yourself.
HVAC SEO Case Study: What SEO Services We Focus On
We build SEO campaigns that last.
When we started taking clients on a little over 2 years ago this was our very first client was an eye doctor. They haven't done any SEO work since our contract finished over a year ago.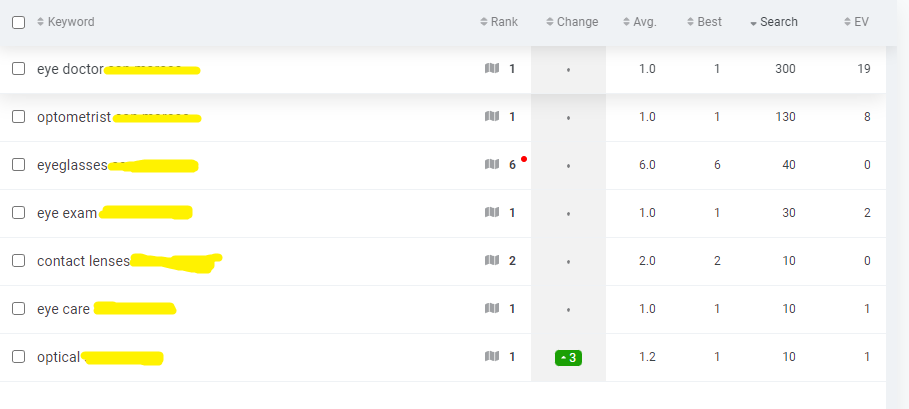 How is this possible?
We don't build spammy links. We don't use overly aggressive anchor text. We write solid homepage, location page and service page content. We write our blog posts with the intention to rank (like this one!)
Current Keyword Rankings for our HVAC Contractor Client
This is a little pre-mature because we just started generating clicks from our campaign. In December received 43 clicks organically and an additional 81 Google Business Page interactions (clicks, calls, messages) which was an 82% increase YoY or a total of 124 additional clicks year over year
Summer is their peak season (this is December data), the rankings are rising steadily as we've secured page 1 for a number of HVAC keywords I am confident when the busy season hits we will be generating 200+ additional clicks and interactions from our SEO campaign.
As we continue to work on this clients website we will continue to add more website traffic.
The suburb the client is in isn't huge. During the peak season the largest keywords will hit ~70-80 searches per month.
Now this may not seem like a big deal but when the cost of PPC for an HVAC company in this area is $40/click those 150 high intent clicks are the equivalent of $6000 in paid advertising.
Additionally high intent clicks from SEO almost always convert at a higher clip than
One interesting aspect of working with HVAC contractors is the number of long tail keywords that exist. There are hundreds permutations of HVAC, Heating, Cooling, Furnace, AC, Heat Pump, Air Conditioner, Central Air + Service, Repair, Installation, Replacement, Company, Contractor, System + Near Me, City variations.
So while a lot of the keywords are low volume or even "0" search volume they all add up.
Why do I bother tracking a term that have no search volume? Because I know from other larger cities and markets those terms do get searched just more infrequently.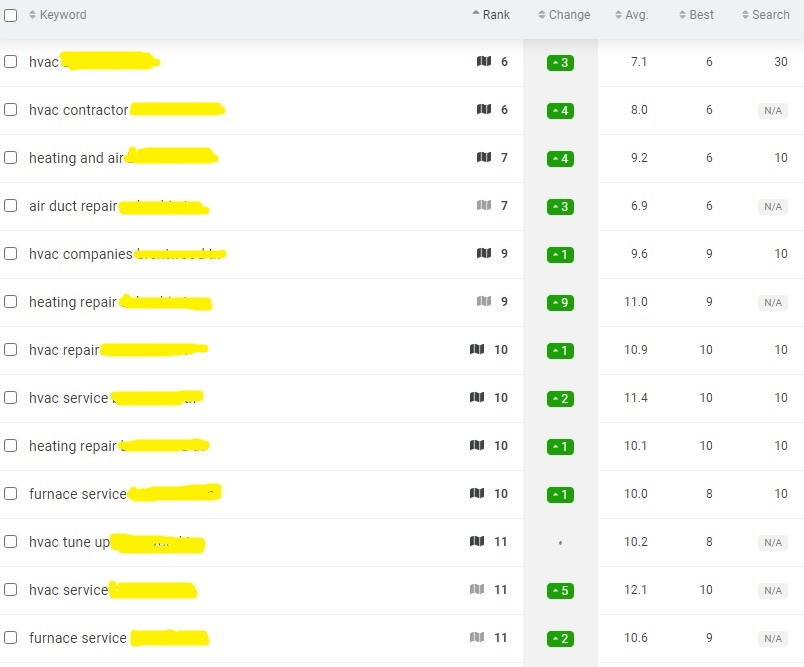 This site was bult in July and indexed by September and as I write this it's currently four months from that date. We literally started from the bottom and have climbed our way into top 10 rankings for a bunch of keywords.
Executing an HVAC SEO Strategy
Instead of writing the usual fluff pieces I'm going to walk you through the exact steps we took (and will continue to take).
But first!
I would like to give credit where credit is due. Our client is the ideal client. He does the work of generating reviews. He has been patient, hasn't micro-managed our team and has let us do our job.
I can't stress how important this is. That tiny piece of copy you don't like was added for a purpose (maybe SEO, maybe UX). If something is flat out wrong, of course flag it and we'll change it but if you'd rather change HVAC Contractor to Heating and Cooling Contractor in a random location on a web page because it speaks to your audience you're not doing anyone, any favors. Let us do our job.
So thank you ideal client who took a chance on us, instead of using an HVAC seo company or a larger marketing company that had more proof of success but was charging 2-3x what we charge.
Step 1: HVAC keyword research and building a well optimized HVAC website
As I previously mentioned this client didn't even have a website for their HVAC business. They bought an existing HVAC company that had a really solid Google Business Page with >60 reviews and a very high rating.
This Google My Business page was a great asset for our client.
We build all of our client websites on WordPress. It is unquestionably the best option for SEO.
What does a well optimized HVAC website look like?
The homepage should be built to rank for the main service keywords (HVAC, Heating and Cooling) and the primary city. The primary city should be the city where your address is.
It is a huge mistake to not list an address on the site and Google Business Page. Why?
The only advantage you have over the massive HVAC contractors in a neighboring town is your location data. They have stronger links, more reviews and a lot more content on their website.
Location is a trump card. It is why ranking in neighboring cities or town takes more time.
The service pages should be built out next. Do not build one crummy service page that lists all of the services you provide and call it a day.
No sir, we are ALWAYS trying to add service and location pages. Exhaust 'em! You want to explicity tell search engines which relevant keywords you provide service for.
In order to do this you need do some HVAC seo keyword research.
I'll save you some time here is a HVAC keyword list.
HVAC Keyword Strategy Sheet
So now you've built pages for HVAC services including: Air Conditioning, Heating, Furnaces, Heat Pumps, Ductwork, Indoor Air Quality, Duct Cleaning.
Do not skimp on content.
Write original content (>400-500 words min.) and add in some duplicated content blocks. These may be locations you service, why choose your company or customer testimonials.
Step 2: Build a Well Optimized Google Business Page For Your HVAC Company
Building a Google Business Page is relatively straight forward. Make sure you use an address that can receive mail and I would recommend waiting until your website is live to create this.
Select the appropriate primary category (HVAC contactor) and list out all the sub services you offer. List your business address, phone number, business hours, area served and a good description (who you are, what services you provide, what areas you service etc.)
You can also add photos, business page posts and FAQs to your Google My Business listing which are all useful.
The most important thing?
Start collecting reviews from day 1! I can't stress this enough, Reviews are the lifeblood of your Google Business Page.
As for on-going work, the client continues to diligently collect review (thank you!), we post content to the Google Business page and everything else we are doing for the website helps the GBP as well.
Step 3: Submit the Site to Local Online Directories
Easy peasy. Build 5-10 citations per month. You can use a service like Bright Local.
I recommend building the important ones out manually. Facebook, Twitter, Yelp, Homestars, Houzz etc.
We will continue to do this until the end of time.
Step 4: Submit Your HVAC Website Sitemap to Google Search Console
If you're using WordPress install the Yoast plugin (free) click on "Yoast SEO" and then click on the features tab. Scroll down until you see XML sitemaps. Hit the "?" button and there will be a link that says "see the XML sitemap".
Or if you use WordPress + Yoast your sitemap will be: /sitemap_index.xml
Add your website to Google Search Console.
Once you've done that go to the "Crawl" tab and click on "Sitemaps". At the bottom of the page, you will find a "Add/Test Sitemap" button.
Click on this button to submit your sitemap. You need to make sure that the sitemap is in the correct format, otherwise it won't be accepted. After submitting your sitemap, you can check the status of your sitemap to ensure that it has been accepted by Google.
Pro tip: If your site isn't indexed it won't rank. It can take a while to index new pages but you can put a request in through Google Search Console to index each specific URL.
Step 5: Improve Your Site Speed
If your website is is slow that hurts your chances to rank highly in the SERPs.
Use a tool like GT Metrix to check each page's page speed. A few things you can do to improve your page speed.
Use a solid host like WPX
Use a content delivery network like cloudflare.
Use the correct image sizes
Use a tool like WP Rocket to optimize techncial seo aspects
Use a tool like imagify to compress images
Remove large images or videos from the mobile version of your site.
Pro tip: Do not agonize over technical SEO, including page speed. None of our client sites are perfect. We spend time optimizing each of them but in a lot of cases when there is lots of media and content it's difficult to create a perfect score. This won't cripple your SEO., it is a balance between design, SEO and UX.
Step 6: Optimize Your Website Content: Homepage, Service Pages and Location Pages
For starters, you need to optimize the following:
Your header tag (H1) which is the title on the page
Your SEO Title which is what Google shows when your website pops up in the search results
Your URL which is the part after the / ie: www.yoursite.com/air-conditioner-installation
Your site structure which is what pages link to other pages on your website
Meta description which is the description the Google shows under the SEO title. You want to optimize this for clicks.
Once you've tackled those five things it's time to optimize the content to target the right keywords.
We use a combination of tools to do this. The first one is SurferSEO which helps us with creating an optimized page. It provides suggestions on word count, structure and NLP-keywords which helps us determine the right keywords for any given web page.
90% of service businesses need to add content to their site.
You can also use a tool like Mangools to help uncover additional HVAC services to build pages around and to uncover additional HVAC seo keywords to add to existing pages. If you're unsure if you should add a specific service page or location, er on the side of more. Add it.
Use Hemingway to try and lower the readability grade. We want our copy to be clear.
Pro Tips
Not all of the content needs to be unique on every page.
In addition to the unique content use testimonials, FAQs, additional services and additional locations.
Don't stuff keywords, that is an old outdated strategy.
Step 7: Add Relevant HVAC Blog Content
For the love of all things holy do not publish 500 word, unformatted, useless garbage. Blog content can help your local seo but it should be useful, well written and thorough.
Study content site builders. Swim University is run by a Matt Giovanisci who I have a lot of respect for. Look at the quality of those articles in a space traditionally thought of as "boring".
You don't need to film videos or make custom graphics (although it doesn't hurt and it's easy to do with Canva) but the content should be formatted, detailed and well written.
If you're going to use AI like Chat GPT it should be used as a base that you rewrite, format, edit and add your own flare to. Google's search engine isn't keen on AI content and I suspect they will continue to get stricter, filtering out search results that their algorithm detects as written by AI.
Start by answering basic questions you hear from your customers.
"Why isn't my air conditioner blowing cold air"?
"How do you unclog an AC condenser coil?"
"Should I buy a cover for my AC unit?"
"How much does a new heat pump costs?"
"Rebates for heat pumps in the US"
"is a heat pump better than central air"
etc.
If you start with a question and click on "people also ask" in the search results it'll generate more questions.
You can also use tools like Mangools and do basic keyword research.
Step 8: Link Building
Link building is still necessary in 2023. Perhaps one day it will be obsolete but for now it is one of the three levers you can pull to improve your organic search results.
Perform on-page SEO – step 1, 4, 5 and 6
Content – step 1, 6 and 7
Off-page SEO – step 2, 3 and 8.
Aside from your generating reviews on your Google Business Page and optimizing your sites homepage, service pages and location pages link building is the most important lever you can pull.
The trick is to build links in a way that is sustainable long term. In order of value:
Links from local news publications. Hard to beat these, harder to acquire.
Links from industry publications.
Links from city relevant sites
Links from guest posting on industry related sites
Links from guest posting on industry adjacent sites
Local and high value directory links
Social profiles
Other directory links
"PR" packages
There are other types of links that can be built but these are the links generally worth focusing on. Link building is a full time job and most local service businesses aren't well equipped to do this work.
Step 9: Rinse and Repeat
There is virtually a limitless amount of work that can be done for local SEO.
Generating reviews, adding blog content and building links can march on indefinitely. That's not to say a campaign should never end (although acquiring reviews should never end) but local SEO is about longer, sustained effort.
As these industries continue to evolve and tech becomes more accessible to more HVAC businesses, it will continue to get more competitive.
Fifteen years ago most HVAC companies didn't even have a website. Today, a well built HVAC company website can be built for a $1500-$3000. And even the smaller HVAC companies can use a tool like Wix to spin up a site for next to nothing.
The best time to work on your HVAC seo marketing strategy was yesterday, the second best time is today.
If you are a small – mid sized HVAC service provider who wants to see real value form an HVAC seo campaign contact us. We are a small team of experts with a proven track record.
Salt Water Digital: Marketing Services for Home Services Businesses
Salt Water Digital is an internet marketing company that focuses on three core services:
Website design, build and management
We build all of our websites using WordPress and Elementor. We use a suite of premium plugins that allow us to generate great SEO results and beautiful websites. Jenn who is our lead web designer has been with our company for over five years and has a unique talent for blending marketing strategy and design.
SEO Strategy and SEO Services
HVAC seo, like any home services requires us to focus on an SEO strategy that delivers high intent clicks. We've honed our SEO strategy to deliver repeatable consist results. Dan is our lead SEO strategist and has been working in the SEO industry for 10+ years working on both the client side and building his own projects.
Google Pay Per Click Services
A well oiled pay per click campaign delivers consist leads for your local businesses. We've built and run hundreds of campaigns over the past 8 years and understand how to deliver results. Steve who is our lead PPC strategist has been running PPC campaigns for clients for over eight years. Having built and sold his own businesses he understands that every marketing dollar needs to deliver results.