Key Takeaways: What SEO Tasks Should A Small Business Operator Do and Which Should They Avoid
Tasks Owners Can Do
Generate google business page reviews
Generate reviews on other platforms
Post pictures on your google business page
Add FAQs to your google business page
Create posts for you google business page
Syndicate google business page posts to your social media
Create blog content for your business*
Add content to existing pages
Build easy, strategic links
Build directory links
Basic On-Page SEO
Tasks Owners Shouldn't Do. Hire An SEO Agency Or Freelancer To Do These
Building your own website
Setting up conversion tracking
Keyword research
Link building
Page speed and core vital optimization
Writing content
How Can Businesses Help Their SEO Efforts?
SEO is a powerful tool for small businesses to connect with local customers. Every day your potential customers are using Google search results to determine what business they decide to work with.
This article will provide you with 11 tasks you, the business owner can do to help your small businesses SEO campaign.
Business owners understand this and our SEO clients often ask us can I help or assist with our site's SEO?
The short answer is yes. There is a never ending list of tasks that can be done to improve SEO for any small business. The better question is what can I do to help our SEO campaign?
The problem is this information is not readily available. If you Google "how can I improve SEO for my small business" you're going to be given a generic list of garbage like this:
Target the right keywords
Don't stuff your site with keywords.
Build links
Publish high-quality content
Use social media
Make sure your website has good UX.
Track results.
Here is another list of SEO tasks.
Conduct keyword research to determine the phrases and terms that people are use to search for your products or services.
Optimize the content to include the keywords identified in the title tags, headings, and body
Create high-quality, original content that is useful to your audience.
Use header tags (H1, H2, etc.) to structure the content on their web pages in a way that makes it easier for search engines to understand the main topics and subtopics.
Use alt tags to describe the images on their website, as this will help search engines understand what the images are about.
Use internal linking to link related pages on their website, as this will help search engines understand the relationship between the pages and how they fit into the overall site structure.
Make sure their website is mobile-friendly.
Build backlinks.
Use social media.
Monitor their search engine ranking and use tools like Google Analytics to understand how visitors are interacting with their website. This will help them identify areas for improvement.
The problem with these list aren't that they are incorrect, the problem is they lacks direction. It's endless. We don't know what is important. What's easy for a non-technical business owner to do? What actually helps? What should you hire out versus what can you do yourself?
This article will provide business owners with a realistic way to improve their SEO efforts who are currently using an agency.
What SEO Tasks Can Be Done?
Let's start with the basics. What SEO work is important for a local business?
A well built website. This means each page should have a clear purpose. The site should be easy to navigate. It should have well written content geared towards helping your website rank higher and improving search visibility. It should perform well free of broken links, slow load times and easily crawlable by Google's crawl bots.
Website pages targeting relevant keywords. Most small business websites fail to include service and location pages. They often have 1 service page and they discuss locations they serve on the homepage.

Your local business website should have a page for every service you perform and a page for every area you service. Here is a good example – every single month we add new pages as part of our SEO contract.
An optimized Google Business Page. Google maps will display 3 results for a service in your area. If you want to capture that traffic you need to ensure you have an accurate and well optimized GBP. This includes reviews, photos, descriptions and posts.
Off Page SEO. This includes links from relevant sites and citations.
Technical SEO. We already touched on this with a well built website but technical SEO means your site speed is solid, the site structure is sound, your site is indexable and crawlable and it's mobile optimized free from core web vital issues.
On page SEO. This includes optimizing your URLs, internal links, SEO titles, meta descriptions, header tags etc.
Content. This includes all the content on the website. Homepage, service pages, location pages and of course blog posts
These elements are the foundation of any local seo campaign.
Let's look at the tasks I often recommend business owners contribute to and how important they are to our overall seo strategy.
A List of Tasks Small Business Owners Can Work On To Improve Their SEO
I am going to break this list down into how much impact each task has and how difficult it is.
How much impact they have?
High Impact
Medium Impact
Low Impact
How difficult is the task.
Very difficult
Moderately difficult
Very Easy
Google Business Reviews
Let's start this off with a layup. Put together a plan to generate local business reviews on Google. Google my business reviews will help you rank higher in both Organic search results (yes, seriously), local seo Google map results, it will also increase your conversion rate and it can be used for social proof.
A follow up e-mail requesting a review is a good place to start.
Here is a basic script.
Hi [Name]
Thank you for your business. Feedback is an integral part of our operation and we are always looking for opportunities to improve customer experience.
We would love to hear from you through a brief review on Google Reviews and [second spot you collect reviews]
Below is a link to Google and [name of second spot you collect reviews] to complete your review(s)
Google:
[URL]
Yelp, Homestars, FB etc.
[URL]
Once again, we thank you for the opportunity to work with you and are appreciative of your business!
Sincerely
[Name]
If you are logged into your email that is associated with your Google Business Profile when you search your brand you will see this menu. If you click on the arrow on the bottom right it will expand and show "Ask for reviews"
This will generate a URL you can use. Read this if your Google reviews aren't showing up.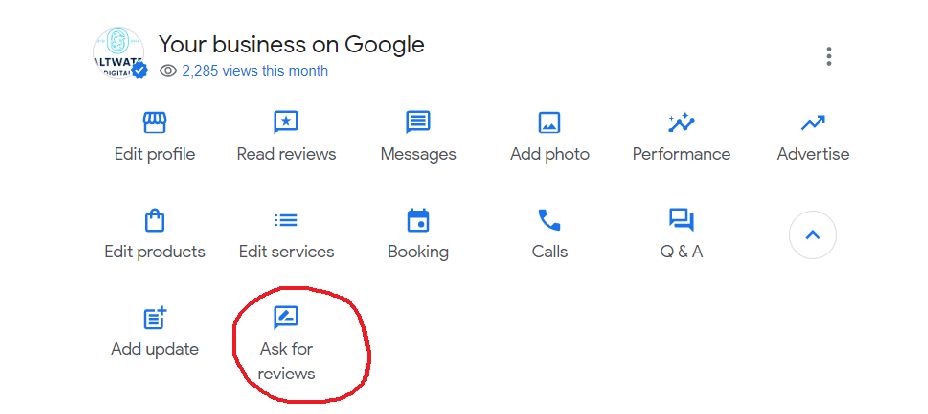 Generate Yelp, Facebook, Home Stars, BBB, Houzz etc. Reviews
I would choose this based on which review platforms rank well. So for example for a plumber in Calgary I would search for "Plumbers Calgary" and I would opt for either Home Stars or Yelp because they rank 5th and 6th respectively.
This will hopefully drive some business from ranking well on that platform (they're largely driven by ad spend and reviews) and again you can use these reviews for social proof on your website.
Post Pictures On Google Business Profile Page
Low to Medium Impact
Very Easy
This another task that local business owners can do very easily. Anytime you are on a job site take a picture and post it to your Google Business Page.
Obviously make sure you're not taking photos of private client details but generally a picture of the jobsite will be fine.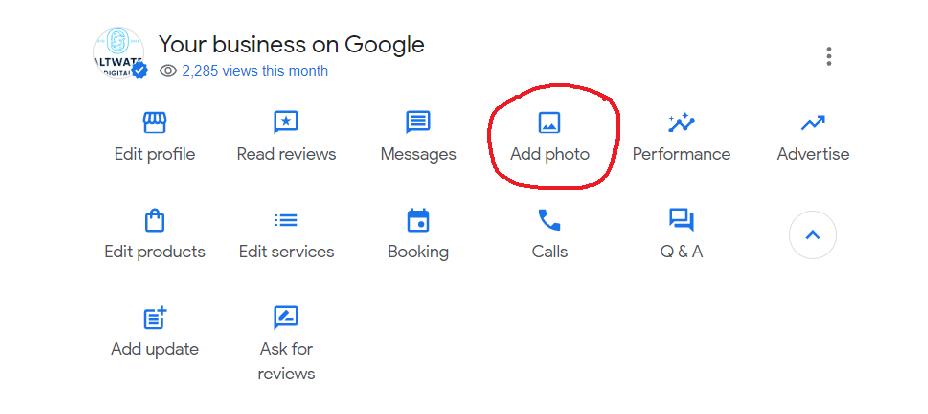 Create Posts For Your Google Business Page
Low to Medium Impact
Very Easy
This is pretty straight forward but does require a little bit of skill in Canva. Here is an example of a Google Business Page post we created for a client of ours: https://posts.gle/fFZsLg
Sign up for a free Canva account and create a custom size design that is 1000 x 1000.
Search their templates for a relevant template. If you're a house cleaning company you could search "house cleaning" and it'll give you a bunch of options.
Add some header text and save it. Head over to your Google Business Page and click add an update. Add a description, a link to your site and upload the image.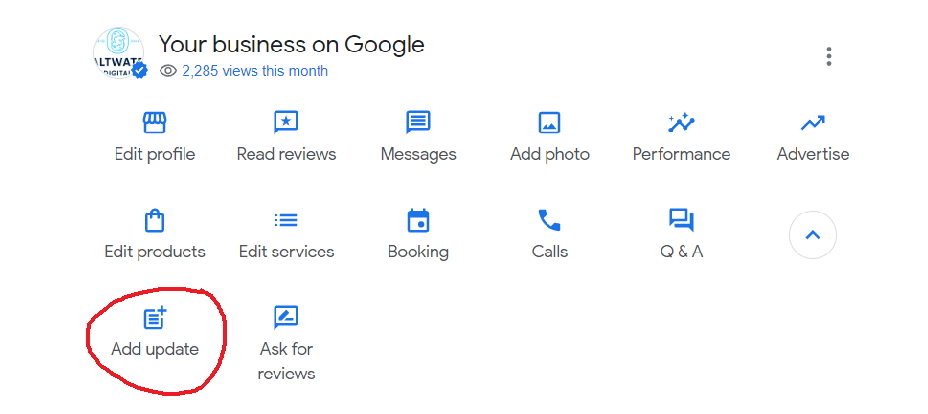 What types of things can you post? If you have a blog you create an update about a blog. If you're a furnace company it might be to change your furnace filter or it might be an offer for a furnace check up because the weather is about to drop.
Similar to uploading images on your Google Business Page, don't over think this.
Add FAQs to Your Google Business Page
Low to Medium Impact
Very Easy
Very few people know this or do this but you can add your own FAQs to your Google Business page.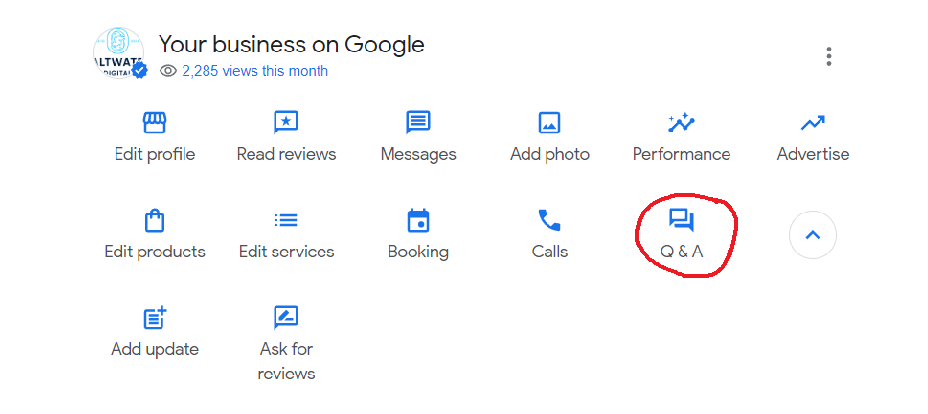 Compile a list of questions your customers frequently ask you and spend the time adding them to your Google Business Page. You can even record a loom video and use Fiverr or Upwork to have someone transcribe it, if you're feeling lazy.
Syndicate Google Business Page Content to Social Media Platforms
Low Impact
Moderately Difficult
For local service businesses, unless you have a specific social media strategy that drives business I would only do this if you were already creating Google Business Page content.
I consider it moderately difficult because understanding the correct image format required for each platform is a hassle.
The purpose of this strategy is to simply take what you've already created for your Google Business Page and post it on Twitter, Linkedin, Facebook and Instagram.
Create Blog Content for Your Website
Medium Impact
Very Difficult
When a small business owner wants to help out on their campaign the first thing they ask is can I write a blog post.
Yes you can. But it's a lot harder than you think and it's going to take more time than you think.
Creating low quality content does more harm than good for your website. Once you decide on a target keyword or topic go look at the top results. Notice the length and the structure and use those as your bench mark.
Signing Up For Local Directories
Local directories or citations are an important part to any small business seo strategy. While these directories won't typically directly drive website traffic they do help you rank in both the organic rankings and the local search results.
Every small business website we work on we build hundreds of local citations. However, there are specific ones that a local business may be able to build. These tend to be really high quality. For instance if you're part of a local chamber of commerce they likely have a membership area you can add your site to. If you part of the BBB they have a directory and so forth.
These directories help a website's ranking.
Add Content to Existing Location or Service Pages
High Impact
Easy to Very Difficult
Building out high quality pages with lots of information is the best way to drive more traffic. This is either a very easy task or a very difficult task.
If all you have to do is write content and pass it off to your developer, web builder or SEO company it's easy.
Write content about a recent job. Write more content about specific services. Write content about a specific area you serve. Write content about how your service helps your customers.
Build Strategic Links
High impact
Medium difficulty
I wouldn't recommend local businesses try and manage their own link building campaigns. Understanding how to analyze the quality of a potential link, anchor text ratios and where to acquire links is difficult and not a good use of your time.
However, chances are there are a few ways you can acquire a handful of links without a lot of work.
Here are a few examples
If you have a friend or colleague who runs a business swap links with them.
If you've been on a podcast and they didn't include a backlink to your site ask for one.
Add links to all of your social profiles (business and personal)
If you donate to charities see if they have a donation page.
If you sponsor local sports team, see if they have a website
Usually it's a matter of asking. You don't need to worry about the quality or the anchor text that's being used. Links like these are always good.
On Page SEO
High impact
Medium difficulty
Writing meta titles (SEO titles), meta description, optimizing URLs, H1 tags are all SEO basics that are very worthwhile and easy to learn. If you have a provider they should be doing this for you, but this is an important part of search engine optimization.
A List of SEO Tasks Small Business Owners Should Avoid
There are plenty of SEO tasks that SMBs should avoid. Hire it out, or don't do it all. These are typically tasks that have a steeper learning curve or that can derail a website.
Building Your Own Website
This is the ultimate time suck. If you want to build a website because you find it interesting by all means. But there are only two ways it ends:
A website that looks like you built it. It is poorly built and it's UX, CRO and SEO reflect that.
100+ hours building a website.
In the case of the former you're going to need to build a proper one down the road. In the case of the latter you've valued your time at ~$15/hr.
Setting Up GA4, Conversion Tracking and Google Search Console
Same issue with the website. It takes our team an hour to set this up. It's a very simple task when you've done it a hundred times. It's a bit more complicated when it's your first go.
Even if you planned on running your own campaign I would pay someone a few hundred dollars to set this up for me.
Keyword Research
Keyword research is the backbone of any SEO campaign. If you're planning on tackling your own SEO this is necessary. If you have an seo service provider conducting your own keyword research is going to be a massive waste of time.
Your provider should have access to seo tools and know how that make this task easier and more accurate. They also will have a better understanding of search intent as well a keyword research tool to help them categorize search queries.
Link Building
With the exception of the links I mentioned above, I would generally lean towards paying someone to do this. There are economies of scale here.
Page Speed & Core Web Vitals
All of our SEO audits include a page speed and core web vitals audit. These both typically require updating the website to fix. Unless you're very confident with your CMS I would recommend you hire this out.
Content
We've touched on this already but generally speaking I would recommend leaving the content to your SEO services provider. The best content is a result of collaboration where the business provides high level bullet points and we take that and turn it into relevant content.
However, even without knowing anything about the particular service, usually we can provide better content through research.